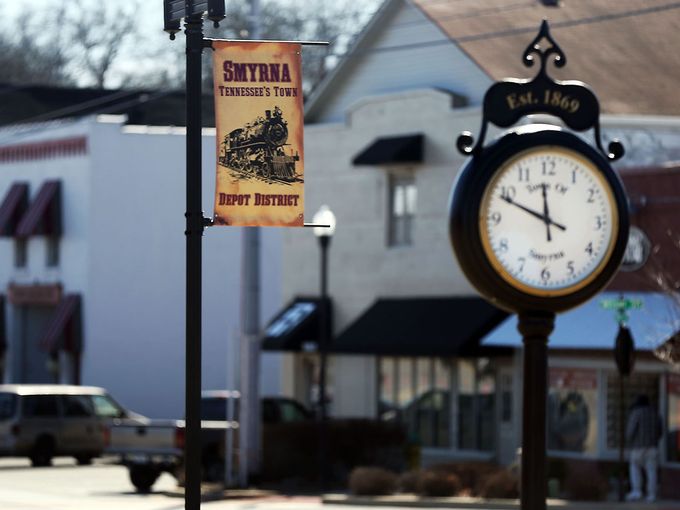 Depot District Arts Fest 2017 Events!
Taste of Smyrna
What – Outdoor event will bring our local restaurants together and let our community taste all the local favorites. This YMCA and Lions club fundraising event will also feature live entertainment and a kids play zone
Where – TriStar StoneCrest Medical Center parking lot (I-24 and Sam Ridley Pkwy)
When – Friday, June 2th, 6:00pm – 8:00pm. Adults – $10, Children (3-15) – $5, 2 and under – FREE
Simply Smyrna Celebration
What – 6th annual, "Dancin' In The District" event with Five Music Stages, vendors, artisans, Kids Zone and much, much more!
Where – The ENTIRE length of Front Street!
When – Saturday, June 3rd, 5:00-10:00PM. Free admission
The Roundabout Music Series

What – Live Music on Saturday Evenings
Where – The Carpe Cafe patio at the Roundabout in Smyrna
When – 7:00-9:30 PM on Saturday evenings throughout the month of June
Art Crawl
What – A chance to stroll Front Street and visit multiple locations to view the artwork of multiple local artists.
Where – The Historic Depot Building, Town of Smyrna Assembly Hall and the Carpe Artista Training Center building.
When – Friday, June 9th, 5:00-9:00PM
International Folk Dancing

What – A folk dancing exhibition courtesy of Murfreesboro's Cripple Creek Cloggers featuring a visiting group from Lithuania. Visit International Folkfest to learn more
Where – The Smyrna Library Smyrna Public Library
When – Thursday, June 15th, 10:00AM
Carpe Artista Student Art Crawl – Has been postponed
Mid Tn Film Fest

What – A Brand New, Independent Film Festival – Narrative Features, Narrative Shorts and Documentaries.
Where – Carpe Artista Training Center Building, 101 Front Street
When – Friday evening, June 30 and Saturday, July 1. Submission and Event Details are below:
Mid Tn Film Fest Event Details – note the various available packages and choose purposefully!

Friday

Evening – 2 blocks of screenings: 6:00 pm – 8:00 pm and the North American premiere of "Road Less Traveled" at

8:30 pm

– Cost: $10
Mixer – after screenings party Friday evening from approx. 9:45-11:00PM – Cost: $10
Saturday – 3 blocks of screenings: approx.

10 am – 12:30 pm

;

2:30 – 5 pm

;

6 – 9:30 pm

Filmmakers' Luncheon and Discussion – Saturday from 12:45 – 2:30 pm, lunch included – Cost $10
All Screenings package – Friday night and all day Saturday screenings – Cost $20
FULL ACCESS Pass – All the above for a cost of $35
Tickets will be available at the door on Friday, June 30 and Saturday, July 1